This lovely two bedroom home is in a brilliant location on Marchmont Street which is seconds away from The Meadows. The Meadows is Edinburgh's favourite green space and used all through the year for relaxing and exercising. The brilliant local amenities of Bruntsfield are a few minutes walk away. You can walk across The Meadows and reach the Old Town easily and buses are available locally.&
Located on the second floor, this is a lovely comfortable flat with a pretty outlook. The sitting room has a bay window with views down to The Meadows and there's a table and chairs for sitting and enjoying the view. There are comfy sofas in this room too. The large dining kitchen is well equipped for dining at home with a Nespresso machine and a table seating 6. There's a pretty view onto the garden area behind the building and onto the shared garden below.&
There are two double bedrooms, both with lovely quality bedding, so you should sleep well. The main bedroom is located at the back and there's a wonderful sound of mixed birdsong from the gardens outside. The second bedroom is well presented with plenty of storage and there's a shower room.&
Dogs are welcome in this home which is in the perfect location for them next to The Meadows.&Dogs are welcome with owners who are going to be taking their dogs with them when they go out but we're afraid we can't accept dogs who are going to be regularly left at home whilst the owners, for example go to work, as our experience is that damage is caused in this scenario. An additional £30/week charge is made for each dog and a larger damage deposit will be taken to cover any breakages/damages or extra cleaning which is required.
Guests will have a lovely time staying in this home from home.&&
Don't forget to read this home's Home Truths
Availability
Unavailable
Low Season
Mid Season
High Season
Selected
At Dickins, the longer you stay the less you pay. We offer a 20% discount when you book for between 4 and 10 weeks and a 25% discount when you book for 10 weeks or longer. These discounts are calculated when you select your dates.
Search using dates to see an accurate, guaranteed best price. A booking and cleaning fee will be added well as a refundable damage deposit and we'll let you know how much they are when we reply to your Request to Book.
We're here to help you make the perfect choice
We know our portfolio very well so we can match you with your perfect home and we can answer any questions you may have.
Speak To An Expert
Concierge at Dickins
We want to make sure that you have the best possible stay in your Dickins home from home, so we've hand picked great people and local businesses to help you do just that.
Home Truths
As this is a dog friendly home, if you are an allergy sufferer, please let us know at the time of booking, so that we can check if there have been any dogs staying in this home recently.
Dickins Cancellation Policy
24 hour cool-off period: Providing you book more than fourteen days before the start of your stay, you can cancel your booking within 24 hours of making it and we will refund 100% of any charges.
Cancelling after the booking is confirmed: Once a confirmation of booking has been issued to you via email by Dickins, you are responsible for the total price detailed. If you need to cancel, Dickins will try to relet the period for you and if they are successful, you will be reimbursed with the value of the relet less a £75 + VAT charge. If they are not able to relet the period, you will be responsible for the full rental cost. It may be a good idea to make sure you have travel insurance which covers cancellation.
Further Questions? Have a look at our FAQS page for answers to common questions
Speak To An Expert
Marchmont
Your New Neighbourhood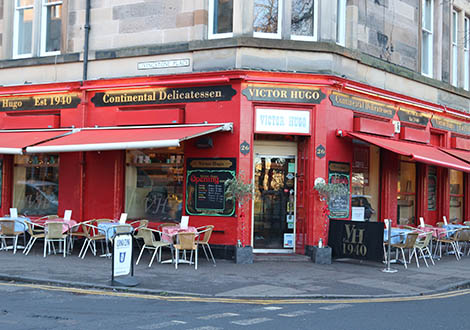 Marchmont is a much loved area of Edinburgh starting at the Meadows and running South to Beaufort Road and from Whitehouse Loan in the West to Causewayside in the East.
It was planned as an area of middle class tenements by Sir George Warrender, who owned an estate in the area known as 'Warrender Park' in the mid 19th century. A few streets in the area commemorate his name. It comprises mostly of four storey Victorian residential tenements and nowadays it's very popular with families and students. Arden Street is where Ian Rankin's fictional Detective Inspector Rebus lives.
Read More
We're here to help you make the perfect choice
We know our portfolio very well so we can match you with your perfect home and we can answer any questions you may have.
Speak To An Expert