Stockbridge is one of Edinburgh's most popular and charming local areas. In the East it runs from St Stephen Street to Dean Park Mews in the West and from Stockbridge Colonies in the North to India Place in the South.
The area is one of Edinburgh's greenest. The Water of Leith flows through Stockbridge, in fact the area is named after the bridge which crosses it and there are very pretty walks along it. It's so quiet and rural, that it is hard to believe you are in the middle of the city. St Bernard's Well is a little Greek style temple overlooking the water. The world class Royal Botanic Gardens and Inverleith Park are a few minutes walk away and are both wonderful for a wander. Inverleith Park has an excellent play park for children and The Botanics is a complete joy at any time of year. If you like running, this area is perfection. The first international rugby match between Scotland and England was played in the area on 27th March 1871. The Stockbridge Duck Race takes place here every year, for charity, when 1000 plastic ducks are released off the bridge to race down The Water of Leith.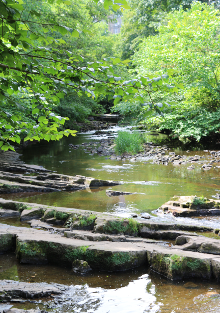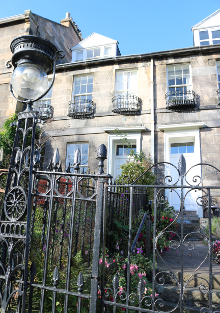 Stockbridge's local food shops are famous and highlights include Bower's the butcher who is famous for an abundant selection of game, Armstrong's the fishmonger, famous for his smoked salmon, Patisserie Madeleine for the best cakes and macaroons this side of Paris, Herbie's for chicken liver pate and Peter's Yard bakes phenomenal bread and serves a mean coffee and bowl of soup. There are also some great restaurants including Scran and Scallie, Tom Kitchin's bistro and Hector's for breakfast. For shoppers there are some great independent boutiques to browse along St Stephen Street and Raeburn Place, which is also famous for its upmarket charity shops. The Stockbridge Sunday market is very popular and sells yummy food and local crafts.
The architecture is mostly Georgian and the highlight is beautiful Ann Street, designed by the painter Henry Raeburn for his wife. Having gardens in the front of the houses is unique. Ann Street is one of Edinburgh's most exclusive addresses. Circus Lane is also pretty and much photographed as are the Stockbridge Colonies. Glenogle Baths is the area's local swimming pool and there's a gym there too. It is easy to walk up to George Street in around 10-15 minutes and buses are available locally too.
Area Gallery