The Old Town is so jam packed with things to do, it is hard to describe in a paragraph. For us The Old Town runs from Mound Place and Market Street to Bristo Square and from Lothian Road to The Palace of Holyroodhouse.
Edinburgh Castle dominates the skyline of Edinburgh, sitting magnificently as it does looking out over the city. It can be seen from miles around. Listen out for the One O'clock gun every day. The massively popular Edinburgh Military Tattoo plays to thousands here each festival. The Camera Obscura will delight both adults and children alike, as will The National Museum of Scotland. Following a major refurbishment, the museum is world class. Greyfriar's Bobby keeps watch across the road and a wander around the churchyard of Greyfriars Kirk is fascinating and potentially spooky. If you are a sucker for a ghost story, Mary King's Close is guaranteed to make you scream and there are many ghost tours starting on the High Street. St Giles Cathedral rises magnificently above the Royal Mile and all the closes that run off it are well worth a day exploring. The Palace of Holyroodhouse, The Queen's Official Residence in Edinburgh, is stunning and sits opposite The Scottish Parliament.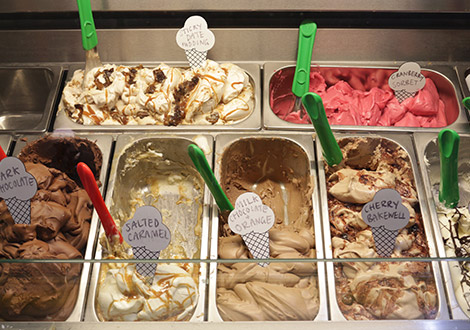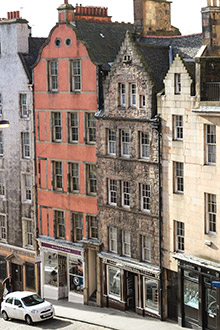 The Witchery is one of Edinburgh's most loved restaurants, Ondine is a destination for lovers of seafood and JK Rowling wrote in the Elephant House. Coffee afficionados head for Brew Lab, lovers of fudge to The Fudge House and lovers of gelato to Mary's Milk Bar. Not surprisingly, there are famous pubs and bars in the area. The Royal Oak, Sandy Bells, The Last Drop, Holyrood 9a, The Blue Blazer and Monteith's are all worth a tipple. If you are after some tartan or cashmere, the choice is endless and there are some local Edinburgh gems to discover here too. Armstrong's for vintage fashion and Mr Wood's Fossil Shop are both located in the Grassmarket and Victoria Street is a delight. In the days when The Old Town was where all the Edinburgh residents lived, there were as many storeys underground as there are above and it was a pretty stinky and scary place to live. No surprise that Burke and Hare committed their murders here. Luckily today, all is clean and safe! Dunbar's Close is a hidden garden and an unexpected delight off Canongate.
The Old Town is always busy but over the Edinburgh Festivals in the summer it seems that every room transforms itself into a theatre. The streets are heaving and the High Street is pedestrianised to allow street performers, markets and wandering. Full of contrasts, history, vibrancy, ghosts, stories and much more, Edinburgh's Old Town is a melting pot of excitement.
Area Gallery