Leamington Terrace (P174)
Luxury
Most Loved
Family Friendly
Leamington Terrace is situated in a fabulous location directly opposite Bruntsfield Links. Nearby on Bruntsfield Place are some excellent local food shops, bistros, bars and cafes, so anything you need is right on your doorstep. Nestled between Morningside and Fountainbridge, Bruntsfield is a vibrant area of the city and is only a 25 minute walk to Princes Street. It is also well placed for the main Festival venues at Bristo Square as it is a lovely walk across Bruntsfield Links & The Meadows in just 20 minutes.
This delightful top floor apartment has been recently refurbished to a high standard and is incredibly welcoming from the moment you step through the door. The spacious sitting room has comfortable seating and has a TV with freeview channels, DVD player and WIFI broadband for guests use. It also benefits from spectacular views across the roof tops of the city over towards Edinburgh Castle. Off the sitting room is the good sized kitchen which is fully equipped for your needs including a dining table to seat 4 people comfortably and also benefits from the view to Edinburgh Castle. Both double bedrooms are at the front of the apartment and have ample storage for guests belongings. Please note, one of the bedrooms can be setup as a twin on request. There is also a bathroom with bath & shower too.
Over the Edinburgh Festival a whole month booking is preferred in this property.
This self catering apartment is available for holiday lets and as Edinburgh Festival accommodation.
Don't forget to read this home's Home Truths
Availability
Unavailable
Low Season
Mid Season
High Season
Selected
At Dickins, the longer you stay the less you pay. We offer a 20% discount when you book for between 4 and 10 weeks and a 25% discount when you book for 10 weeks or longer. These discounts are calculated when you select your dates.
Search using dates to see an accurate, guaranteed best price. A booking and cleaning fee will be added well as a refundable damage deposit and we'll let you know how much they are when we reply to your Request to Book.
We're here to help you make the perfect choice
We know our portfolio very well so we can match you with your perfect home and we can answer any questions you may have.
Speak To An Expert
Concierge at Dickins
We want to make sure that you have the best possible stay in your Dickins home from home, so we've hand picked great people and local businesses to help you do just that.
Home Truths
This home is on the top floor (2nd floor) and there is no lift. The views are worth the climb though!
Please request on booking how you would require the second bedroom made up as either a double or twin.
If you would like to use the cot and high chair during your stay, please let us know at the time of booking. Linen will not be available for the cot, so please bring your own.
When the owners stay in this flat they bring their dog, so this property will not be suitable for allergy sufferers.

Over the Edinburgh Festival a whole month booking is preferred in this property.
Dickins Cancellation Policy
24 hour cool-off period: Providing you book more than fourteen days before the start of your stay, you can cancel your booking within 24 hours of making it and we will refund 100% of any charges.
Cancelling after the booking is confirmed: Once a confirmation of booking has been issued to you via email by Dickins, you are responsible for the total price detailed. If you need to cancel, Dickins will try to relet the period for you and if they are successful, you will be reimbursed with the value of the relet less a £75 + VAT charge. If they are not able to relet the period, you will be responsible for the full rental cost. It may be a good idea to make sure you have travel insurance which covers cancellation.
Further Questions? Have a look at our FAQS page for answers to common questions
Speak To An Expert
Lauriston & Bruntsfield
Your New Neighbourhood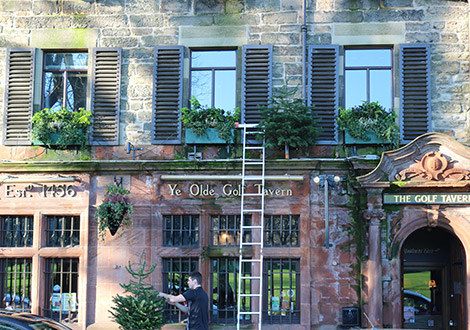 With some of the best cakes on offer in Edinburgh (we do love a cake at Dickins…) and a whole load more besides, there's a delicious choice of things to do in Lauriston and Bruntsfield. For us Lauriston runs from Fountainbridge and across to Quartermile in the North to Bruntsfield Links in the East, along Strathern Place and the border with Morningside in the South and Gilmore Place in the West.
For a jog, a stroll, a walk with the children, a game of football or a lie in the sun there is fabulous outdoor space in Bruntsfield Links. Bruntsfield Links is one of the oldest golf courses in the world (you can chip and put here for free) and the Golf Tavern which overlooks it was established in 1456. The Meadows run on from Bruntsfield Links creating a huge outdoor space. Quartermile overlooks the Meadows and is the property hot spot of the area. It is much sought after and was designed by Foster + Partners. It comprises luxury apartments, offices and cafes and is on the site of Edinburgh's old hospital, The Royal Infirmary. The incredibly popular cafe and bakery Peter's Yard is there (I find it hard to walk past without buying a cardamom bun or a cardamom ice cream in the summer.)
Read More
We're here to help you make the perfect choice
We know our portfolio very well so we can match you with your perfect home and we can answer any questions you may have.
Speak To An Expert