Bruntsfield Terrace (P433)
About the home
In a brilliant situation overlooking Bruntsfield Links, this second floor corner apartment is full of light and feels very spacious. It is a perfect apartment for someone wanting to work from home. There are wooden floors and high ceilings. You enter into a large hallway. Ahead of you is the bedroom with a large window and plenty of storage. The sitting room has a dining table by the window which overlooks Bruntsfield and there is a comfy sofa and a huge desk which is great for home working/studying. The dining kitchen is the star of this lovely home. It's a large space with a dining table and a great room for cooks, who can make the most of the excellent local shops. There is a bathroom with a shower over the bath. 
Walking Distances
Bruntsfield Links - 1 minute it is right across the road. 
Bruntsfield for a brilliant range of local shops, cafes and restaurants - 1 minute
George Square - 15 minutes
The neighbourhood
Bruntsfield is one of Edinburgh's best neighbourhoods. The choice of local independent shops, cafes and restaurants is unrivalled across the city. It feels relaxed and welcoming. Literally across the road is Bruntsfield Links, which then leads onto The Meadows, so there is fabulous green space on your doorstep here. Morningside is a short walk away and it is easy to walk across The Meadows to George Square and Edinburgh University and the main Edinburgh Festival venues. Buses are available locally. 
Availability
Unavailable
Low Season
Mid Season
High Season
Selected
At Dickins, the longer you stay the less you pay. We offer a 20% discount when you book for between 4 and 10 weeks and a 25% discount when you book for 10 weeks or longer. These discounts are calculated when you select your dates.
Search using dates to see an accurate, guaranteed best price. A booking and cleaning fee will be added well as a refundable damage deposit and we'll let you know how much they are when we reply to your Request to Book.
We're here to help you make the perfect choice
We know our portfolio very well so we can match you with your perfect home and we can answer any questions you may have.
Speak To An Expert
Concierge at Dickins
We want to make sure that you have the best possible stay in your Dickins home from home, so we've hand picked great people and local businesses to help you do just that.
Lauriston & Bruntsfield
Your New Neighbourhood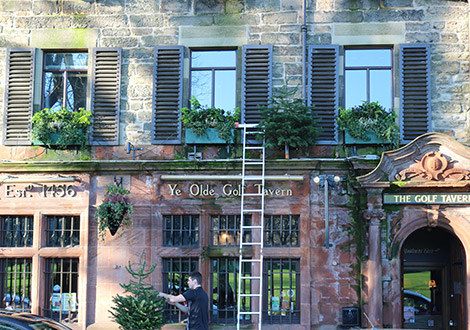 With some of the best cakes on offer in Edinburgh (we do love a cake at Dickins…) and a whole load more besides, there's a delicious choice of things to do in Lauriston and Bruntsfield. For us Lauriston runs from Fountainbridge and across to Quartermile in the North to Bruntsfield Links in the East, along Strathern Place and the border with Morningside in the South and Gilmore Place in the West.
For a jog, a stroll, a walk with the children, a game of football or a lie in the sun there is fabulous outdoor space in Bruntsfield Links. Bruntsfield Links is one of the oldest golf courses in the world (you can chip and put here for free) and the Golf Tavern which overlooks it was established in 1456. The Meadows run on from Bruntsfield Links creating a huge outdoor space. Quartermile overlooks the Meadows and is the property hot spot of the area. It is much sought after and was designed by Foster + Partners. It comprises luxury apartments, offices and cafes and is on the site of Edinburgh's old hospital, The Royal Infirmary. The incredibly popular cafe and bakery Peter's Yard is there (I find it hard to walk past without buying a cardamom bun or a cardamom ice cream in the summer.)
Read More
We're here to help you make the perfect choice
We know our portfolio very well so we can match you with your perfect home and we can answer any questions you may have.
Speak To An Expert