About the home
House of Letters is a rare and special treasure. Located on a cobbled lane off a pretty New Town street, you walk through the main door of this wondrous mews house into your own hidden and private world. House of Letters was, for decades, the office of the graphic designer (and tastemaker) owner. Hence the importance of typography and beautiful design throughout the space. Everything you see and experience here has been considered. 
Entering the house on the ground floor, to the right is the library with a fabulous sofa and so many wonderful books, that you might never be able to leave the sofa! To the left is the peaceful bedroom with a comfy double bed, plenty of storage and a desk and chair by the window. There is a guest loo and in between the library and bedroom, a utility space with the washer dryer. Here you'll also find the door to the private garden. The owners are rather skilled garden designers too and have made the very most of the garden with rowan trees, ferns, pathways and sculpture. There is a table and benches so you can enjoy spending time here. 
In the library there is a staircase which takes you to the upper floor. It is a very beautifully and cleverly curated space. The ceiling goes up to the eaves, so it feels very spacious and light filled. Here you will find a dining table to seat six very comfortably. There is plenty of comfy seating and a TV with freeview. The kitchen is tucked away and has everything you will need to be able to enjoy cooking at home. In the vibrant bathroom, there is a shower over the bath. 
Guests staying in the House of Letters are not going to want to leave. It is as special as it gets. Your dog can stay here too! 
Walking Distances
Dundas Street - 2 minutes
George Street - 8 minutes
Stockbridge - 7 minutes
The Location
House of Letters is in a wonderful New Town location off Cumberland Street. Stockbridge is a pleasant stroll away along Circus Lane. Dundas Street is at the other end of the street and you'll find some excellent local food shops (including Margiotta, Archipelago and Artisan Pasta) and some great cafes and places to have a drink. Buses head to the Old Town from Dundas Street. You can walk to George Street, where you will find high end shops and a great range of places to eat in less than 10 minutes. 
Don't forget to read this home's Home Truths
Availability
Unavailable
Low Season
Mid Season
High Season
Selected
At Dickins, the longer you stay the less you pay. We offer a 20% discount when you book for between 4 and 10 weeks and a 25% discount when you book for 10 weeks or longer. These discounts are calculated when you select your dates.
Search using dates to see an accurate, guaranteed best price. A booking and cleaning fee will be added well as a refundable damage deposit and we'll let you know how much they are when we reply to your Request to Book.
We're here to help you make the perfect choice
We know our portfolio very well so we can match you with your perfect home and we can answer any questions you may have.
Speak To An Expert
Concierge at Dickins
We want to make sure that you have the best possible stay in your Dickins home from home, so we've hand picked great people and local businesses to help you do just that.
Home Truths
There is a sleeping area which the family uses above the kitchen and bathroom, but this is not available for guests to use.
This is a dog friendly home. Dogs are welcome with owners who are going to be taking their dogs with them when they go out but we're afraid we can't accept dogs who are going to be regularly left at home whilst the owners, for example go to work, as our experience is that damage is caused in this scenario. An additional £30/week charge is made for a dog and a larger damage deposit will be taken to cover any breakages/damages or extra cleaning which is required.
Dickins Cancellation Policy
24 hour cool-off period: Providing you book more than fourteen days before the start of your stay, you can cancel your booking within 24 hours of making it and we will refund 100% of any charges.
Cancelling after the booking is confirmed: Once a confirmation of booking has been issued to you via email by Dickins, you are responsible for the total price detailed. If you need to cancel, Dickins will try to relet the period for you and if they are successful, you will be reimbursed with the value of the relet less a £75 + VAT charge. If they are not able to relet the period, you will be responsible for the full rental cost. It may be a good idea to make sure you have travel insurance which covers cancellation.
Further Questions? Have a look at our FAQS page for answers to common questions
Speak To An Expert
Central New Town
Your New Neighbourhood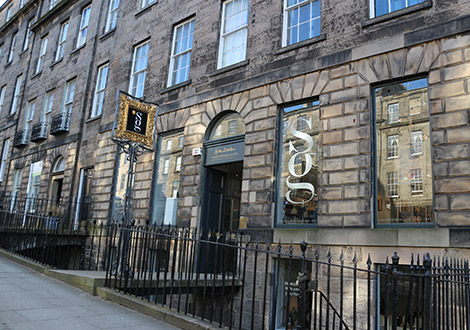 The Central New Town spans from Scotland Street in the East to Randolph Crescent in the West and from Princes Street in the South to Brandon Terrace in the North. It encompasses most of Edinburgh's beautiful and enviable Georgian New Town.
In 1766 James Craig, aged 27, entered a competition to design a New Town to ease overcrowding in the Old Town. There were six entries and he won. His plan was for St Andrew Square and Charlotte Square, Princes Street, George Street and Queen Street and was presented to King George III in 1767. Edinburgh's New Town is now world famous and was designated a UNESCO World Heritage site in 1995. The Georgian New Town is known for its graceful sweeping crescents, wide streets and private central gardens. The beautiful stone buildings have large astragal windows that we love to peep in on a winters evening to see what lies inside. The architectural details and high ceilings in Edinburgh's New Town put Bath to shame. The architectural highlights are Charlotte Square, Moray Place and Heriot Row.
Read More
We're here to help you make the perfect choice
We know our portfolio very well so we can match you with your perfect home and we can answer any questions you may have.
Speak To An Expert