About The Home

New Town homes don't come much better than this brilliantly located luxury three bedroom garden apartment in Doune Terrace. You enter down a few stairs via your own private front door. Everything in this home has been very carefully considered with comfort in mind, by the lovely owners for whom this is home when they're in Scotland. You'll be surrounded by great art, stylish furnishings and a sense of quality. And, just when you thought it couldn't get any better, your dog is welcome to stay here too!
The star of the show here is the fabulous south facing garden. There you'll find lots of outdoor seating, allowing you to sit and enjoy being outdoors whilst making the most of the sun. There are doors to the garden from both the dining kitchen and via sliding doors in the glazed living room. As the living room is glazed on two sides, the pretty garden feels very much an extension of this room. As well as lots of light, you'll find a stylish room with comfy seating gathered around a wood burning stove, making it perfect for cosy evenings as well as sunny days. The TV comes with a package including Sky Sports, Sky Cinema and BT Sports. The dining kitchen is a fabulous room too. It's very well equipped, so if you like to cook, you can make the most of the Stockbridge Sunday market and excellent local independent food shops. The dining table seats 8 and there's seating at the marble topped island too. There's a pantry off the kitchen and a lot of storage.&
There are three great bedrooms in this home. All the beds are Hypnos, so are super comfortable and all have wonderful linens, so you should sleep very well here. The master bedroom is very spacious and attractive. There's an ensuite bathroom with a shower over the bath. There are two more very comfy double bedrooms and a shower room. You'll also find a utility room off the attractive hallway.&
Whether you book Doune Terrace for a holiday or a longer stay, you're sure to feel very glad you did. This beautiful home is a absolute cracker.&
Walking Distances
Stockbridge Sunday market - 2 minutes
Water of Leith Walkway for dogs walks feeling like you're in the countryside - 5 minutes
Dean Village reached along the Water of Leith - 12 minutes&
George Street for smart shops and great restaurants - 9 minutes&
The Location&
Doune Terrace is a fabulous New Town location. Stockbridge with all it's charming, local independent shops, cafes, restaurants and bars is two minutes away. If you're bringing your dog, then Stockbridge is super dog friendly and you can go for lovely walks along the Water of Leith, feeling like you're in the middle of the countryside. Beautiful Moray Place, one of the true gems of Georgian Edinburgh is at the end of the street. You can walk to George Street in 12 minutes and there you'll find a great choice of quality stores and restaurants. Dundas Street is closeby too. You can easily walk to city centre locations from here. Buses are available locally and of course taxis too.&
Don't forget to read this home's Home Truths
Availability
Unavailable
Low Season
Mid Season
High Season
Selected
At Dickins, the longer you stay the less you pay. We offer a 20% discount when you book for between 4 and 10 weeks and a 25% discount when you book for 10 weeks or longer. These discounts are calculated when you select your dates.
Search using dates to see an accurate, guaranteed best price. A booking and cleaning fee will be added well as a refundable damage deposit and we'll let you know how much they are when we reply to your Request to Book.
We're here to help you make the perfect choice
We know our portfolio very well so we can match you with your perfect home and we can answer any questions you may have.
Speak To An Expert
Concierge at Dickins
We want to make sure that you have the best possible stay in your Dickins home from home, so we've hand picked great people and local businesses to help you do just that.
Home Truths
This is a dog friendly home. Dogs are welcome with owners who are going to be taking their dogs with them when they go out but we're afraid we can't accept dogs who are going to be regularly left at home whilst the owners, for example go to work, as our experience is that damage is caused in this scenario. An additional £30/week charge is made for each dog and a larger damage deposit will be taken to cover any breakages/damages or extra cleaning which is required.
Dickins Cancellation Policy
24 hour cool-off period: Providing you book more than fourteen days before the start of your stay, you can cancel your booking within 24 hours of making it and we will refund 100% of any charges.
Cancelling after the booking is confirmed: Once a confirmation of booking has been issued to you via email by Dickins, you are responsible for the total price detailed. If you need to cancel, Dickins will try to relet the period for you and if they are successful, you will be reimbursed with the value of the relet less a £75 + VAT charge. If they are not able to relet the period, you will be responsible for the full rental cost. It may be a good idea to make sure you have travel insurance which covers cancellation.
Further Questions? Have a look at our FAQS page for answers to common questions
Speak To An Expert
Central New Town
Your New Neighbourhood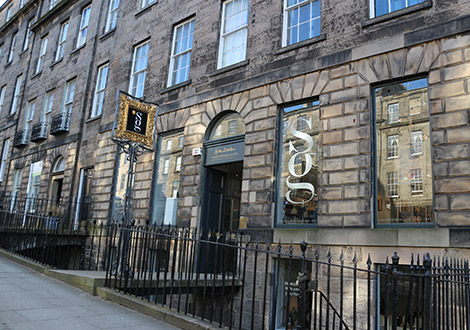 The Central New Town spans from Scotland Street in the East to Randolph Crescent in the West and from Princes Street in the South to Brandon Terrace in the North. It encompasses most of Edinburgh's beautiful and enviable Georgian New Town.
In 1766 James Craig, aged 27, entered a competition to design a New Town to ease overcrowding in the Old Town. There were six entries and he won. His plan was for St Andrew Square and Charlotte Square, Princes Street, George Street and Queen Street and was presented to King George III in 1767. Edinburgh's New Town is now world famous and was designated a UNESCO World Heritage site in 1995. The Georgian New Town is known for its graceful sweeping crescents, wide streets and private central gardens. The beautiful stone buildings have large astragal windows that we love to peep in on a winters evening to see what lies inside. The architectural details and high ceilings in Edinburgh's New Town put Bath to shame. The architectural highlights are Charlotte Square, Moray Place and Heriot Row.
Read More
We're here to help you make the perfect choice
We know our portfolio very well so we can match you with your perfect home and we can answer any questions you may have.
Speak To An Expert