10 Edinburgh Festival Photos on Instagram We Love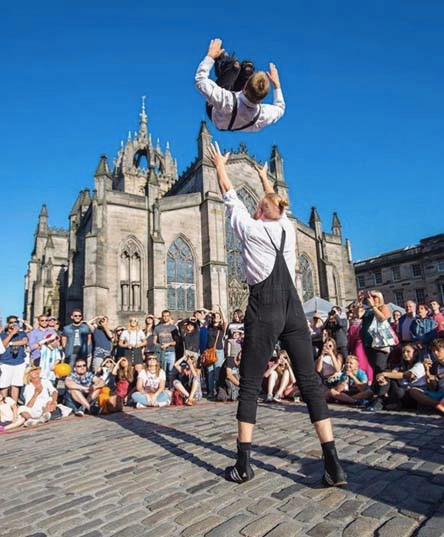 With only five days left of the Edinburgh Festival we've seen a lot of absolutely amazing shots of the August madness – with a lot more to see without a doubt! It is very hard to only pick out ten photos but we feel these ones reflect this year's festival pretty well. So start scrolling and enjoy the Instagram show!
1. The outdoor Standard Life opening event on August 7th with music by Scottish rock band Mogwai was something else – the most stunning colours and images were projected onto Edinburgh Castle and Castle Rock. Whoa!
2. In August the Royal Mile becomes a long stage with the most varied (and often strange) performers, human statues and flyerers all demanding your attention. A must-visit! This is such a perfectly timed capture with the stunning St Giles' cathedral in the back.
3. The Military Tattoo that takes place on the Castle esplanade is an extravaganza like no other during the Festival. It really is worth a visit as you can probably gather from this stunning photo!
4. George Square Gardens where you'll also find the iconic upside down purple Underbelly cow is a lovely place to hang out and have a drink before catching a show.
5. If you haven't heard of extremely successful Edinburgh trio Young Fathers yet you should look them up now. The played the Hub on 14th and 15th of August and it was fantastic. This is such a great capture from their gig.
6. August in Edinburgh is full of surprises and odd characters – perhaps these two mops were on their way home from a long day of work?
7. Never before have we seen so many impressive human statues in Edinburgh as this year. Just look at this masterpiece!
8. If you like a really good party the Hot Dub Time Machine is something for you. During four sweaty hours you will dance your way through pop music history and enjoy yourself like never before. Promise!
9. Chotto Desh by the Akram Khan Company was such a moving theatre-dance piece that we were almost in tears. Beautiful!
10. Elaine Davidson is the most pierced woman in the world (around 9,800 piercings!!) and is one of the fascinating characters you can find on the Royal Mile. (Apparently she is also a fan of Peppa Pig.) What a captivating photo!
For great all year round snaps of beautiful Edinburgh check out our previous blog post featuring 7 Edinburgh Instagrammers you need to follow.